Ogun Absorbs 7500 Vigilante Officers Into Civil Service
The Ogun State government has approved the employment of 7500 volunteering officers of the Vigilante Service of Ogun State, VSO into the state's civil service.
Speaking in Abeokuta yesterday, the State Commander of the VSO, Mr. Soji Ganzallo said,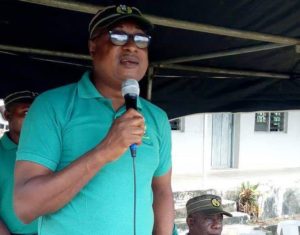 the adoption of the volunteers is part of the implementation of the new law passed by the Ogun the State house of assembly and signed by Governor, Ibikunle Amosun, which has transformed the present volunteering Vigilante Service of Ogun State into an enacted State security organization- Ogun State Social Orientation and Safety Corps, SO Safe Corps, effective from January 2019.
 Ganzallo stated that VSO is now a scheduled organisation with carrier progression, which means officers will henceforth draw their salaries and other allowances from the State government, while they are also entitle to gratuity and pension after retirement and can also aspire to become the State Commander and even permanent secretary in Ogun State civil service.
"The VSO has served the state in providing security at the grassroot level right from 2011, when crime rate was on very high side and indigenous security organization like this is needed to compliment efforts of other security agencies.
"This impressed the people and the VSO bill was taken to the house of assembly, with people's support the bill was passed and assented by the Governor.
"We have over 12000 officers under the VSO, and out of them about 7500 are moving into the SO safe corps in January as full-time State's public servants while others will remain as volunteer corps, whose remunerations will be coming from money realized from guard duties and some other special assignments we are running," he added.
According to Ganzallo, despite the constant and comprehensive security training of all VSO officers by partnering security agencies, institute and expatriates, the new minimum qualification for recruitment for the organization is Senior Secondary Certificate Examination, SSCE, which is unlike the conventional community and township vigilantes.
He noted that this is to ensure officers can comprehend every paramilitary training given to them both practical, which include raffle handling and security intelligence and investigation tips, in order not to recruit illiterates which be more dangerous.
He said, "It is not like before when people without any academic qualification can be an officer of the VSO, this has changed because it will be impossible for an illiterate to unstand and put to use most of our trainings from the Ogun State Police command, the Civil defense, the DSS and even expatriates from foreign security institute.
"Our officers with SSCE, OND, HND, B.Sc are the ones that are moving into So Safe Corps. Some of them have gone through various diploma and advance diploma security programmes from reputable institutes of learning like Nigeria Institute of Security.
"Crime is now more dynamic and sophisticated. The way crime is 10 years ago is different from the way is now or will be ten years time, therefore we most keep training and retraining our officers so they can always meet up with the sophisticated state of crime this time.
"We are also assured of getting best hands into this organization because the So safe corps is attractive in the sense that they will be earning a special salary scale as security officers which is more rewarding than the average civil or public servasnts in the state."
Speaking of the organisation's relationship with the conventional Vigilante Group of Nigeria, VGN, Ganzallo revealed that new law has given SO Safe corps the power and right to regulate the activities of other vigilante group in the State including VGN.
"With the new law, other private vigilante group either township, community or VGN outfits must register under the SO safe corps, if they want to operate in Ogun State.
"VGN is registered other CAC as a private organisation which is not established by any act of the parliament. It is registered by an individual and VGN officers are volunteers, unlike the VSO who are now public servants employed that the Government.
"There is clear cut difference now, anybody can register a company like VGN but not just anybody can take a bill to the state house of assembly and get it passed into law with the governor assent. This is also part of the reasons while we changed our uniform so that people will not mix us up with VGN. We are special corps, we are SO safe corps," he added.